A SHARED PASSION

Etablished in 1978, Les Celliers Jean d'Alibert is a wine making and trading company. It is a public limited company in which the majority of capital is held by a group of cooperative wineries  named Union des Producteurs du Haut Minervois. It employs 35 people and its strength lies in the quality of its staff members, all of whom are highly enthusiastic  and dynamic as well as experienced and dedicated (average age is 40 and average experience is 15 years).
A SUSTAINABLE COMMITMENT
Les Celliers Jean d'Alibert is situated in the Rieux-Minervois area, at the foot of the Black Mountain.
A great diversity of soils and climates can be found across all the shareholding wineries, as well as many different grape varieties and varying methods of production. The result of such diversity is the ability to produce many different wine styles that are always authentic and generous.
6 shareholding wineries represent 6000 ha of vineyard and 350 000 hl of wine, all produced by 1000 winegrowers and 50 employees. The Group thus performs an important economic and social role in the development of the Minervois region as a whole.
ALWAYS MOVING FORWARD / WE NEVER REST ON OUR LAURELS!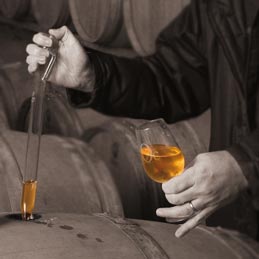 Since 2001, Les Celliers Jean d'Alibert has constantly evolved in order to satisfy the highest levels of customer quality requirements.  Their standards and efficiency are backed up by BRC, IFS, BIO-CE and BIO-CE NOP certifications.
Investments of 6 million euro have allowed the group to continue to innovate (screw capping, PET bottles, glass stopper etc) and to offer ancillary quality services such as an in-house and computerized online stock follow-up system.
Les Celliers Jean d'Alibert are:
A LANGUEDOC ROUSSILLON WINE SUPPLIER IN BULK OR BOTTLES:
Wide quality and diversity of wines (in terms of Appellations, grape varieties & ecosystem).

Quality control of the wine supplied (partnership with the wineries of the group).

Wine profiles adapted according to the country of consumption (200 000 hl of bulk wine a year and 6 million bottles sold of which 40% for the export market).

Large volumes (total production available of 300 000 hl).
A BOTTLING CENTER WITH WIDE RANGE OF SERVICES:
Tailored-made bottling services : knowledge of the specificities of the main markets (6 million bottles: France, U.S.A., U.K., Northern Europe, Japan, Russia, China…).

Dry materials adapted to the requirements of your range: glass or multi-layered PET bottles, cork, synthetic or screw caps.

Quality controls by qualified staff, continuous automated controls (camera for labeling control) and in-house laboratory.

Air-conditioned warehouse for both bulk wines and finished products, computerized (FIFO, consultation of movement of stock on Internet).